LIFE FORCE
LATEST DECORAH SECURITY NOVEL
Life Force is the 25th book in the Decorah Security series.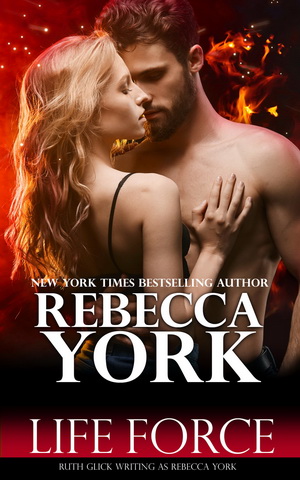 Matthew Carter had lived long enough to fear the pain of love. Did he dare take a chance with Olivia Stapler?
Matthew Carter has changed his name many times over the past 500 years. Born in an English village where everyone else died from the plague, he has no idea why he survived. At a Las Vegas medical conference, Matthew meets and falls for researcher Olivia Stapler. But dying billionaire, Jarred Bainbridge is desperate to discover the secret of Matthew's longevity–no matter what painful experiments it takes. Worse, Bainbridge takes Olivia hostage. Can Matthew save her life before it's too late, and what happens when she discovers his life is a charade?
Welcome to the Rebecca York Web Site
I love writing romantic suspense: stories about a man and a woman falling in love against a backdrop of heart-stopping danger. And if the book has a dark paranormal twist, so much the better. Now that you're here, I hope you'll browse around my site to find out what I'm writing and what I've written in the past. In "THE BOOKS" section, you'll find information on my Decorah Security series, contemporary paranormal romantic suspense. You can also get—for a bargain rate—the Decorah Security Collection (which contains Dark Powers, Chained, and Ambushed). I'm also writing two additional series: the Unbound series for Changeling Press. These are hot medieval fantasy novels set in an alternative universe where magic is woven into the fabric of society. I'm also writing the Off World series–romances and romantic suspense stories set in the future when the human race has moved to far-flung planets. If you want a list of my 43 Light Street books, my Berkley Moon series, or my Rockfort Security series, they're here too.
And for my Newsletter subscribers, please enter Autumn Contest for a chance to win prizes.