FIRE ON THE MOON
LATEST DECORAH SECURITY NOVEL
Fire on the Moon is the 19th book in the Decorah Security Series.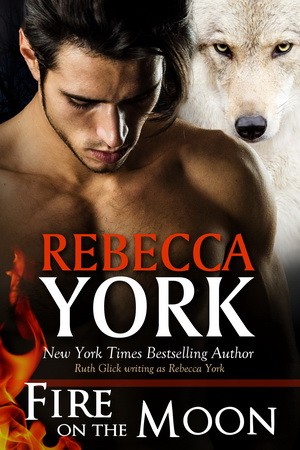 When Francesca Turner visits her estranged uncle's estate in Florida, she doesn't know she's stepping into a death trap. Only the cunning strategies of werewolf Zane Marshall can save her. But as the two of them are hunted down, they must fight for survival and the happily ever after they both desire.
Rebecca York is a lead author in a new USA Today best-selling anthology, Love, Christmas.
I'm in a new boxed set with twenty brand-new short and sexy Contemporary Romance Novellas from New York Times, USA Today, and international bestselling authors! What a deal. Twenty stories for 99c. The exciting romance bundle is guaranteed to make your blood run hot. Passion, steamy nights, adventure, and suspense. These stories are all named after Christmas songs. My story is called White Christmas.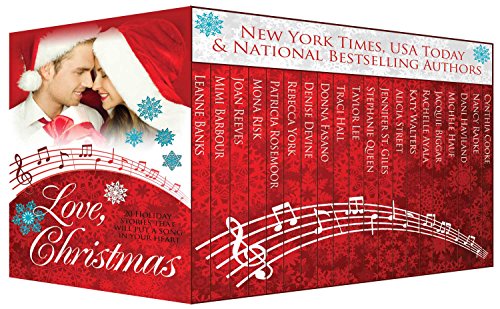 Welcome to the Rebecca York Web Site
Romantic thrillers are my passion. I love writing stories about a man and a woman falling in love against a backdrop of heart-stopping danger. And if the book has a dark paranormal twist, so much the better. Now that you're here, I hope you'll browse around my site to find out what I'm writing and what I've written in the past. In "THE BOOKS" section, you'll find information on my Moon series, my books about the Marshall family of sexy alpha male werewolves, and also Dark Moon, the latest in the Moon series and also the first book in my Decorah Security paranormal romantic suspense series. There are now six novels (Dark Moon, Dark Powers, At Risk, Rx Missing, Hunting Moon, and Found Missing), six novellas (On Edge, Chained, Christmas Captive, Destination Wedding, Terror Mansion, and Outlaw Justice), and two short stories (Hot and Dangerous and Ambushed) in the Decorah Security Agency series. You can also get—for a bargain rate—the Decorah Security Collection (which contains Dark Powers, Chained, and Ambushed). All six novels are now available as both e-books and trade paperbacks. And if you want a list of my 43 Light Street series books, they're here too. Please bookmark this site, and plan to visit often. We will update the information on a regular basis.
And for my Newsletter subscribers, please enter my Spring Contest for a chance to win prizes.