HOLLOW MOON & BOXED IN
LATEST DECORAH SECURITY NOVELS
Hollow Moon is the 17th book in the Decorah Security Series.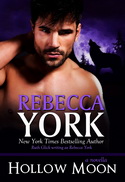 Did she save his life only to betray him?
Werewolf detective Knox Marshall makes a near-fatal mistake when he tries to get the goods on a drug lab in isolated Western Maryland. Captured and used as a test subject in a diabolical experiment, he manages to escape. After nurse Maggie Leland finds him naked and wounded in the woods, she patches him up; but she's hardly prepared for the drug flashbacks that spin his mind out of control or the side effects that turn him on. She and Knox get close quickly. He thinks he's found his lifemate—until it looks like Maggie is working with the drug dealers. When he realizes he's wrong, is it, too late to save her life?
Boxed In, the 16th book in the Decorah Security Series, was published in June 2017.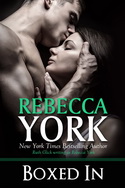 Olivia Weston is sure her boss has imported a shipment of stolen antiques. And when Decorah agent Luke Garner handles one of the items, an ornate puzzle box, the spirit of a warrior, locked away for centuries, takes possession of his body. Zabastian, the guardian of the box, forces Luke to help him return the object of power to its rightful owners. As Olivia sees Luke change before her eyes, his transformation both frightens and arouses her. And both men who inhabit Luke's body want her. But they must also learn to work together to protect the mysterious artifact from a trio of murderous thieves who will risk anything to steal the prize. And in the end, will the warrior allow Luke and Olivia their happily ever after?
Rebecca York is a lead author in a new USA Today best-selling anthology, Love, Christmas.
I'm in a new boxed set with twenty brand-new short and sexy Contemporary Romance Novellas from New York Times, USA Today, and international bestselling authors! What a deal. Twenty stories for 99c. The exciting romance bundle is guaranteed to make your blood run hot. Passion, steamy nights, adventure, and suspense. These stories are all named after Christmas songs. My story is called White Christmas.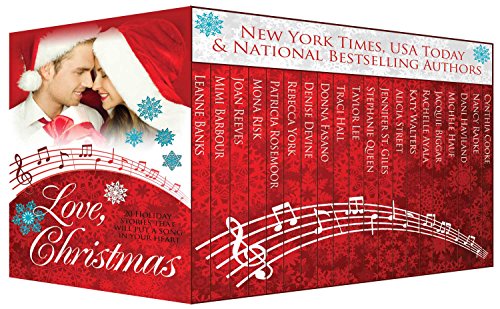 Welcome to the Rebecca York Web Site
Romantic thrillers are my passion. I love writing stories about a man and a woman falling in love against a backdrop of heart-stopping danger. And if the book has a dark paranormal twist, so much the better. Now that you're here, I hope you'll browse around my site to find out what I'm writing and what I've written in the past. In "THE BOOKS" section, you'll find information on my Moon series, my books about the Marshall family of sexy alpha male werewolves, and also Dark Moon, the latest in the Moon series and also the first book in my Decorah Security paranormal romantic suspense series. There are now six novels (Dark Moon, Dark Powers, At Risk, Rx Missing, Hunting Moon, and Found Missing), six novellas (On Edge, Chained, Christmas Captive, Destination Wedding, Terror Mansion, and Outlaw Justice), and two short stories (Hot and Dangerous and Ambushed) in the Decorah Security Agency series. You can also get—for a bargain rate—the Decorah Security Collection (which contains Dark Powers, Chained, and Ambushed). All six novels are now available as both e-books and trade paperbacks. And if you want a list of my 43 Light Street series books, they're here too. Please bookmark this site, and plan to visit often. We will update the information on a regular basis.
And for my Newsletter subscribers, please enter my Summer Contest for a chance to win prizes.