FROM THE DARKNESS
LATEST DECORAH SECURITY NOVEL
From the Darkness is the 24th book in the Decorah Security series.
Is the man she loves dead or alive?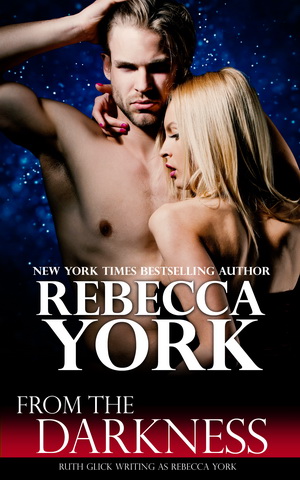 Breen Brennan and billionaire Troy London were once lovers. Now Troy has mysteriously disappeared, and Decorah Security sends Bree to Ravencrest, his isolated mansion on the Maine coast, to find out what happened. Posing as the tutor for Troy's daughter, Dinah, Bree joins a household of suspicious characters, any one of whom could have killed Troy. Or is he being held against his will? And what about the unseen man who saves Bree from a fall to her death and then begins visiting her in the night, inflaming her passions with his hot kisses and knowing hands? Is he real or is he Troy's ghost? Completely cut off from all help, Bree must figure out the mysteries of Ravencrest before powerful forces do away with her and Dinah. And is there any hope of finding Troy and rekindling the relationship they once had?
Welcome to the Rebecca York Web Site
I love writing romantic suspense: stories about a man and a woman falling in love against a backdrop of heart-stopping danger. And if the book has a dark paranormal twist, so much the better. Now that you're here, I hope you'll browse around my site to find out what I'm writing and what I've written in the past. In "THE BOOKS" section, you'll find information on my Decorah Security series, contemporary paranormal romantic suspense. You can also get—for a bargain rate—the Decorah Security Collection (which contains Dark Powers, Chained, and Ambushed). I'm also writing two additional series: the Unbound series for Changeling Press. These are hot medieval fantasy novels set in an alternative universe where magic is woven into the fabric of society. I'm also writing the Off World series–romances and romantic suspense stories set in the future when the human race has moved to far-flung planets. If you want a list of my 43 Light Street books, my Berkley Moon series, or my Rockfort Security series, they're here too.
And for my Newsletter subscribers, please enter my Summer Contest for a chance to win prizes.