Decorah Security Series

I've always thought that one of the best ways to connect with my readers is through related stories. I've done that with my long-running 43 Light Street series for Harlequin Intrigue and my Moon books for Berkley. And I wanted to use a similar format with the Decorah Security series, which FOCUSES ON A DETECTIVE AGENCY WHERE ALL OF THE AGENTS HAVE PARANORMAL POWERS—OR TAKE IN PARANORMAL CASES. IT'S RUN BY A CRUSTY OLD NAVY SEAL NAMED FRANK DECORAH, WHO HAD HIS OWN PARANORMAL EXPERIENCE WHEN HE CAME BACK SERIOUSLY WOUNDED FROM AFGHANISTAN. (HIS STORY IS TOLD IN ON EDGE, LISTED BELOW.)
The usual thriller or detective series has one main protagonist who comes back book after book. Romantic thrillers are a little different because it's not just about the peril. The focus is on the developing relationship between the hero and heroine as well as on the action plot. It's also the story of a man and a woman falling in love against a background of suspense and danger, and it isn't until after they've dispatched the bad guys that the reader is sure they're going to work out their complex relationship.
That's a challenge for the writer. But also fun. You're always weaving the two plots together so that if you pulled out either one, the story would fall apart. And with the Decorah Security series, there's another element as well. All of the agents have paranormal powers—or they're dealing with a paranormal case.
As you may have guessed, I named the series after the Decorah eagles:
https://www.raptorresource.org/birdcams/decorah-eagles/
There's a live Webcam trained on an eagle's nest in Decorah, Iowa, and A COUPLE OF YEARS AGO I was thrilled to watch Mom and Dad Eagle raise three babies until they fledged. This year I'm just as fascinated, watching them with their new family. Notice that the emblem for the Decorah Security series is a gold eagle coin.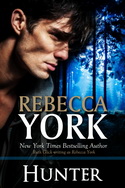 Hunter (Light Street Press, November 2019) A Decorah Security novel) (Book #20)
Kathryn is hired to socialize a criminal whose memory had been erased. But the better she gets to know him, the more she fights to strip away the lies she'd been told and get to the heart of the man. Even as the two of them grow to care deeply for each other, she knows that every move she makes only puts her in graver danger. Does the man who named himself Hunter have the skill and the cunning to save her life? And what if he has to sacrifice himself to do it?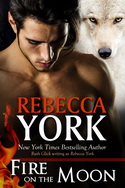 Fire on the Moon (Light Street Press, August 2019) A Decorah Security novel (Book #19)
When Francesca Turner visits her estranged uncle's estate in Florida, she doesn't know she's stepping into a death trap. Only the cunning strategies of werewolf Zane Marshall can save her. But as the two of them are hunted down, they must fight for survival and the happily ever after they both desire.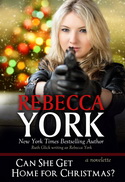 Can She Get Home for Christmas? (Light Street Press, December 2018) A Decorah Security novella (Book #18)
Desperate to get home for Christmas, Samantha Donovan doesn't realize she's in terrible danger as she drives through a blinding snowstorm. Only Jax Warden's psychic powers can save her. But Sam is suspicious of the explanation Jax gives her for why he showed up at just the right time to rescue her from a serial killer. Can she trust him enough to accept his help?
When Samantha's car goes off the road, a man she doesn't know has kidnapped and killed several women offers her a ride to her parents' house.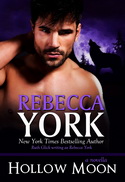 Hollow Moon (Light Street Press, February 2018) A Decorah Security novel (Book #17).
Did she save his life only to betray him?
Werewolf detective Knox Marshall makes a near-fatal mistake when he tries to get the goods on a drug lab in isolated Western Maryland. Captured and used as a test subject in a diabolical experiment, he manages to escape. After nurse Maggie Leland finds him naked and wounded in the woods, she patches him up; but she's hardly prepared for the drug flashbacks that spin his mind out of control or the side effects that turn him on. She and Knox get close quickly. He thinks he's found his lifemate—until it looks like Maggie is working with the drug dealers. When he realizes he's wrong, is it, too late to save her life?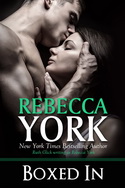 Boxed In (Light Street Press, June 2017) A Decorah Security novel (Book #16)
Olivia Weston is sure her boss has imported a shipment of stolen antiques. And when Decorah agent Luke Garner handles one of the items, an ornate puzzle box, the spirit of a warrior, locked away for centuries, takes possession of his body. Zabastian, the guardian of the box, forces Luke to help him return the object of power to its rightful owners. As Olivia sees Luke change before her eyes, his transformation both frightens and arouses her. And both men who inhabit Luke's body want her. But they must also learn to work together to protect the mysterious artifact from a trio of murderous thieves who will risk anything to steal the prize. And in the end, will the warrior allow Luke and Olivia their happily ever after?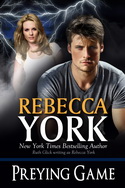 Preying Game(Light Street Press, February 2017) A Decorah Security novel (Book #15).
Jonah Ranger was restoring an antique 1955 Chevy when he heard a woman's voice on the car radio pleading for help. She said her name was Alice Davenport, and a man was holding her captive, forcing her into a grueling workout routine so she'd be a proper challenge when he hunted her like big game on his private estate.
As they talked, her voice shifted from the radio to inside Jonah's head. Born with telepathic abilities, he'd helped Decorah Security rescue kidnap victims, but never had he felt this personal connection to one of them. Calling on psychic resources he didn't know he possessed, Jonah was able to project himself to Alice's location, where he could hold her in his arms, touch her, kiss her, and plan.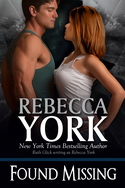 Found Missing (Light Street Press, September 2016) A Decorah Security novel (Book #14)
When Jenny Seaver escaped from her worst nightmare, she hoped she had found a refuge with Decorah Security agent Grant Bradley. But deep in her heart, she knew safety was only an illusion. Could she risk the night of passion they both wanted before she disappeared from his life?
Grant's need for Jenny defied any danger. But unless she decided to trust him with the secrets of her past, the evil that followed her could destroy them both.
Outlaw Justice (Light Street Press, July 2016) A Decorah Security novella (Book #13).
Long ago, they were a hot item. Then Leah left town, met, and married the wrong man. Escaping a living hell of a marriage, she runs straight into the arms of her old lover, Steve Outlaw. Passion flares again between them, but can he save her from a homicidal husband?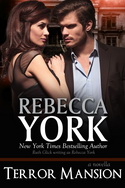 Terror Mansion (Light Street Press, April 2016) A Decorah Security novella (Book #12)
Decorah agent Wyatt Granger hates his dreams because they often warn of danger. Tonight he wakes from a nightmare about a beautiful young woman, pursued by a confusing cloud of menace. He doesn't know her name or where she lives, but he lets his psychic talents guide him to her–and finds she's a silversmith working in St. Stevens on the Eastern Shore of Maryland. Her name is Kate Kingston, and when he tells her she's in danger, she brushes off his warning. Kate thinks he's a con artist. Can Wyatt win her trust before a deranged murderer closes in on both of them?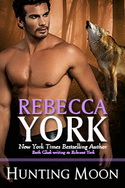 Hunting Moon (Light Street Press, December 2015) A Decorah Security novel (Book #11).
Witnessing the murder of New York mobster, Johnny Denato, is only the beginning of the terror closing in on nightclub dancer Tory Robinson. Kidnapped and spirited off to an isolated upstate New York sanatorium, she's held captive by a sadistic doctor who drugs her and insists she's there for psychiatric treatment. But his focus is on getting information about Denato.
Enter werewolf Brand Marshall, out hunting in the deep woods when he discovers Tory's frightening predicament. Getting her out alive will take all of his courage and cunning, but Brand's ultimate challenge is convincing Tory that she is his destined mate.
Rx Missing (Light Street Press, April 2014) A Decorah Security novel (Book #10).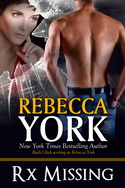 When Mack Bradley bails out of his F-18, he ends up at a hotel in the Twilight Zone, where nothing is as it seems. He's drawn to one of the other residents of this strange place, Lily Wardman, and she seems to return the attraction, but is she an ally or part of a grand conspiracy?
Grant, Mack's brother, has been told he's dead, but when Grant opens the coffin to put in Mack's class ring, he find a fake body. This discovery sends him on a frantic search for the truth. But is Mack beyond his reach?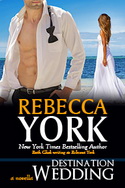 Destination Wedding (Light Street Press, November 2014) A Decorah Security novella (Book #9).
After a billionaire's daughter, Camille Norland, is kidnapped by a Russian mobster bent on matrimony, Decorah Security agent Nick Cassidy is her best hope of rescue. Nick's never admitted his feelings for Camille. Now he's desperate to save her before the wedding night.
Christmas Captive (Light Street Press, October 2013) A Decorah Security novella (Book #8).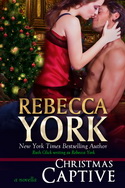 Was it attempted murder or a boating accident? Either way, Jordan Campbell is in a coma. When Frank Decorah asks nurse Hannah Andrews to use her psychic talent to connect with Jordan, she knows it's a dangerous job. Once she's on the case, whoever tried to kill Jordan will likely turn on her. But as she digs into the man's background, she can't refuse Frank's assignment. Now she's risking her life–and her heart.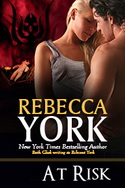 At Risk (Light Street Press, E-book June 2013; Trade Paperback: October 2013) A Decorah Security novel (Book #7).
After a series of muggings outside her New Orleans restaurant, Eugenia Beaumont hires Decorah Security to find out who's trying to sabotage her business. Frank Decorah sends Rafe Gascon, a man with psychic powers. He and Eugenia were almost lovers as teenagers, and each thinks the other broke off the relationship. The moment they connect again, old feelings leap to life. Then a murder at a voodoo ceremony in her restaurant makes them both suspects. Can they avoid a voodoo curse, find the real killer and admit the feelings they still have for each other?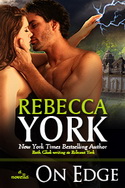 On Edge (Light Street Press, January 2013) A Decorah Security novella (Book #1).
A lot of readers have asked me about Frank Decorah who heads up Decorah Security. I've written about him in a novella called ON EDGE, a prequel to the series. In the story, the wounded navy SEAL is back from the first Gulf War in rehab at the Naval Medical Center. One night he hears another man on the unit calling out for help and steps into a paranormal battle between two beautiful women. One is evil. The other good–or is she? That memorable night and the ones that follow set the course for the rest of Frank's life.

Hot and Dangerous (Light Street Press, November 2012) A Decorah Security short story (Book #6).
What's more dangerous—terrorists or a hot and sexy werewolf?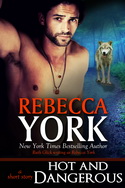 In this short story, Jenna Brockhurst is taking a vacation from her high-pressure medical researcher job on an island off the coast of San Marcos. She and a mysterious, handsome stranger have been eyeing each other—but they don't get together until terrorists attack the resort. She and Zack Marshall escape into the jungle, where they get to know each other a whole lot better. But when the terrorists track them down, the only way Zack can save Jenna's life is to reveal his animal persona. What's she going to do when she finds out the man who made love to her is a werewolf?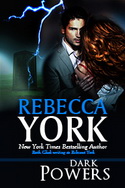 Dark Powers (Light Street Press, E-book, October 2012; Trade Paperback: February 2013) A Decorah Security novel (Book #5).
Suffering from PTSD after a traumatic undercover assignment, Decorah Security agent Ben Walker must cope with a new mission—and a woman determined to find her kidnapped sister at all costs. He'd prefer to work alone, but Sage Arnold insists on coming with him to Doncaster, Maryland, where secrets fester below the surface of small-town life. Sage and Ben grow close, but can she help him heal his psychic wounds? And will his ability to read the last thoughts of murder victims get them both killed?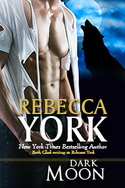 Dark Moon (Light Street Press, E-book: December 2011; Trade Paperback: April 2012) A Decorah Security novel (Book #2).
This is the next book in the Moon Series and also the first novel in a new e-book series, Decorah Security, which will be published by Light Street Press. Cole Marshall is near the age of werewolf bonding and fighting his attraction for Emma Richards. When Decorah Security sends them on a mission to rescue kidnap victim, Karen Hopewell, they're forced to play the role of lovers with nothing on their minds but enjoying the pleasures of the Windward, an ocean liner converted to a floating resort for the rich and kinky. It's owned by millionaire Bruno Del Conte who runs the ship like his private kingdom. Cole and Emma are threatened by a mutiny in progress and also by Del Conte's security chief who digs into their backgrounds to find out who they really are and why they're on board. As Cole and Emma try to rescue Karen, they struggle with the intensity of the personal relationship neither of them thought they wanted.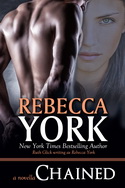 Chained (Light Street Press, December 2011). A Decorah Security novella (Book #3).
In this story, political refugee Isabella Flores is forced to run for her life when political operatives from her native San Marcos try to capture and kill her. When she hides out at her father's old ranch, she's threatened by a ghost guarding the property. It's Decorah Security agent Matthew Houseman. Isabella and Matthew fell in love when he was guarding her family. Now they're together again, only the relationship they longed for can never be because Matthew Houseman was killed in the line of duty, and his ghost is haunting the ranch. Still, the passion Isabella and Matthew could never acknowledge draws them closer together, and as they explore their relationship, Matthew becomes more real to himself and to Isabella. After the ranch is attacked and Matthew helps save Isabella's life, she learns that there may be hope of bringing her ghost lover back–if she dares to take the risk.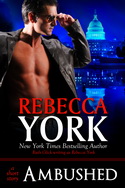 Ambushed (Light Street Press, December 2011) A Decorah Security short story (Book #4).
In this story, Decorah operative Jordan Stone is on bodyguard duty, taking Elizabeth Bannerman to a meeting with the Federal Prosecutor. She's the only witness against an alleged terrorist, and her life is on the line. Jordan and Elizabeth are ambushed when they arrive at the parking garage and must flee into the building. As the terrorists close in on them, they both acknowledge the sexual attraction that's been simmering between them. But will they live long enough to explore their relationship?
Decorah Security Collection (Light Street Press, December 2012) A Decorah Security anthology containing four complete Decorah Security stories:
Ambushed (a short story) — She's a target. He's her shield.
Dark Powers (a novel) — Can his dark powers locate a kidnap victim?
Chained (a novella) — When death is stalking, only a phantom can save her—and love her.
Hot and Dangerous (a short story) — What's more dangerous—terrorists or a hot and sexy werewolf?