Moon Series
I first got turned on to werewolves as a teenager when I read DARKER THAN YOU THINK, by Jack Williamson. I loved the story. In fact, it made me want to BE a werewolf. Later I read and loved another werewolf book, THE WOLF'S HOUR, by Robert McCammon.
Those authors inspired me to write my own story in the genre. I started thinking about a book with a werewolf detective who used his wolf senses to solve crimes. At the time, paranormal was "out," and I doubted I could sell the story. But it simply wouldn't let me go. Finally I had to start writing it. The book became KILLING MOON (ISBN: 0425190714, Berkley Sensation, June 2003).
My first Moon books were Urban Fantasy. But as I've gotten into the series, I've added a new element–a universe parallel to our own, where paranormal powers have become a dominant force in society.
Dark Moon
(E-books: ISBN: 978-0970629326, December 2011; Trade paperback: 9780970629395, April 2012; Light Street Press)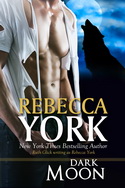 Dark Moon  is the next book in the Moon Series, whose first books were published by Berkley Sensation, and is also the first book in a new e-book series, Decorah Security, which is being published by Light Street Press  (see Decorah Security page).  Cole Marshall is near the age of werewolf bonding and fighting his attraction for Emma Richards.  When the Decorah Security detective agency sends them on a mission to rescue kidnap victim, Karen Hopewell, they're forced to play the role of lovers with nothing on their minds but enjoying the pleasures of the Windward, an ocean liner converted to a floating resort for the rich and kinky.  It's owned by millionaire Bruno Del Conte who runs the ship like his private kingdom.  Cole and Emma are threatened by a mutiny in progress and also by Del Conte's security chief who digs into their backgrounds to find out who they really are and why they're on board.  As Cole and Emma try to rescue Karen, they struggle with the intensity of the personal relationship neither of them thought they wanted.
(ISBN: 978-0425230985, Berkley Sensation, October 2009)
Slave to a fearsome master, Kenna has come to our universe to prepare for an invasion. When she meets werewolf Talon Marshall, she longs to tell him her terrible secret and enlist his help. But every time she tries to reveal her mission, a lightning bolt of pain stops her words. Can she find a way to communicate with Talon before it's too late for our world?
DRAGON MOON was a finalist in the Dark Paranormal category for the Prism Award of the Fantasy, Futuristic and Paranormal chapter of the Romance Writers of America.
ISBN: 978-0425227008, Berkley Sensation, April 2009)
Good and evil clash down through the ages in a struggle for supremacy. Renata Cordona is the reincarnation of an ancient goddess. Werewolf Jacob Marshall is a dog whisperer and her true consort. They have met countless times through the centuries in different lives. And each time, a demon steps into the equation to keep them from fulfilling their destiny. They've never been strong enough to fight the ancient evil. But can a werewolf change the equation? Or will they repeat the pattern of destruction and doom humanity along with themselves?
(ISBN: 978-0425222454, Berkley Sensation, May 2008)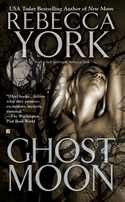 The story of a woman named Quinn, who comes from the parallel universe I first introduced in NEW MOON. Readers met her in my novella, "Huntress Moon," in ELEMENTAL MAGIC. She's on a vital mission to save her friend's life. But after she comes through the portal between the worlds, a ghost stops her in her tracks. It's werewolf Caleb Marshall, who was killed 75 years ago by his cousin. Caleb's stayed on earth to avenge his death. Although he and Quinn are powerfully drawn to each other, she's terrified that he will wreak vengeance on her friends, the Marshalls. And though she longs for love, she sees no future in a relationship with a phantom. Quinn vows to stay away from Caleb, but everything changes when he acquires the body of a murder victim. But can he and the Marshalls work together to foil a diabolical plot aimed at the heart of the U.S. government? And what of his love for Quinn? Can it survive the terrible irony that fate has dealt him?
(ISBN: 0425217868, Berkley Trade, November 2007)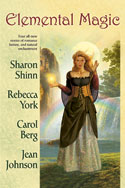 The story of Zarah, a freeborn woman forced into slavery after her father is convicted of embezzlement and executed. To save her mother's life she agrees to spy on Griffin, a high council member in a neighboring city-state. Although Griffin hides a dark secret, he and Zarah are drawn to each other. But what will happen when he discovers her duplicity? Griffin is a werewolf but not one of the Marshalls. Their story is set in the parallel universe I created for NEW MOON ( ISBN: 0425216020, Berkley Sensation). "Huntress Moon" also introduces Quinn, the heroine of the next Moon novel, GHOST MOON, July 2008.
(ISBN: 0425216020, Berkley Sensation, March 2007)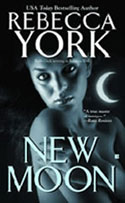 While prowling through the woods in wolf form, Logan is caught in a trap meant for Rinna, a shape-shifter from a parallel universe. Although she's fleeing from a powerful man who will do anything to capture and control her, she risks everything by changing from a beautiful white wolf into a naked woman so she can free Logan.
He realizes Rinna is his lifemate. Yet as the passion between them builds, he finds that she's been abused, and he must win her trust with his tender lovemaking. When she figures out that her nemesis has followed them from her world to ours, she hatches a desperate plan to save herself and Logan.
NEW MOON takes place in the Howard County, Maryland, area, where I live–along with many of the Marshalls. I like to give them homes on big tracts of land or next to a state park where they can roam at night in wolf form.
(ISBN: 042520961X, Berkley Sensation, June 2006)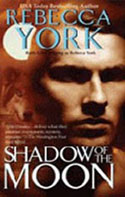 Introduces journalist Lance Marshall, who meets Savannah Carpenter while investigating "The Castle," a private club in Washington, DC, where the rich and famous let down their hair. Savannah wants to find out who killed her sister. Lance volunteers to help her get into the club, but only if they pose as a sexually intimate couple who can fit into the supercharged atmosphere of The Castle. Once inside the club, they discover an evil from another universe.
The whole Marshall family join to defeat this supernatural monster. And they're helped by Rinna, a woman from another parallel universe.
This story is set in the heart of the Nation's Capital. The Castle is located less than a mile from where I grew up. Lance and Savannah get to have a sizzling love scene at the Watergate Hotel, in the room where my husband and I stayed. And they also meet at one of my favorite spots–the Botanical Gardens down near the Capitol.
(ISBN: 0425199959, Berkley Sensation, January 2005)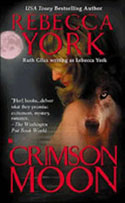 CRIMSON MOON heads for the West Coast to follow Johnny Marshall, who fled a trumped-up murder charge in Baltimore, moved to California, and changed his name to Sam Morgan. He makes his living as a polished and accomplished thief, robbing rich men who destroy the natural environment. Olivia Woodlock tricks him into a burglary attempt at her father's house, then hires him to steal back the Woodlock treasure from a man who wants to destroy her family. So Sam finds himself bonding with the daughter of a man he despises. But Olivia has talents Sam never dreamed existed, and he must cope with his reaction to her powers as well as the supercharged sensuality simmering between them.
Much of CRIMSON MOON takes place around Santa Barbara, my husband's hometown, which I've visited many times. But I also used other locations on the California coast that we've enjoyed exploring.
(ISBN: 0515138150, Jove Books, July 2004)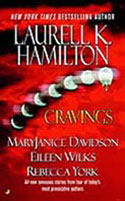 "Burning Moon" in the CRAVINGS anthology explores the grief and despair of a werewolf who has lost his lifemate. All Grant Marshall wants to do is rip out the throat of the man who killed his wife–then swim out into the Atlantic Ocean and never come back. He tracks his wife's killer to a small New Jersey seaside town, where he meets Antonia, a blind tarot card reader–the woman with the power to change his fate. I used the New Jersey shore because I've been there several times, and I liked the small town atmosphere of the beach resorts. Also, a beach town seemed like the perfect location for a blind woman because she could easily walk to the stores and anything else she needed.
(ISBN: 042519278, Berkley Sensation, October 2003)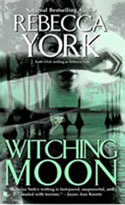 WITCHING MOON is the story of Ross's brother, Adam, who's just taken the job of head ranger at a private nature park in Georgia. As the story opens, he's almost killed by a group of druggies partying in the park. The next morning, he meets his lifemate, Sara Weston, a botanist studying medicinal plants. Together, he and Sara must battle a group of psychics bent on punishing the townspeople for hunting down and killing their parents, who were accused of being witches. Ross comes down to Georgia to help Adam, and the brothers try to work together–a difficult task since all my werewolves are alpha males and need to be the head of the pack. But Ross is determined to change the way the Marshall men interact. And the strong women they marry are also important in forging family bonds.
Several years ago, we took a trip to the Okefenokee Swamp because I was interested in setting a suspense novel in that kind of environment. I never wrote the book I was researching, but the locations stuck with me. And when I was looking for a setting for my third Moon book, I decided the Okefenokee was perfect. Only I changed the name for the story–since I've given the waters of the swamp the power to impart psychic powers in susceptible individuals.
(ISBN: 0425191257, Berkley Sensation, August 2003)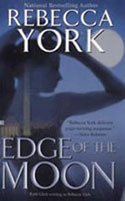 Fans often ask why the hero of the second book in my werewolf series isn't a werewolf. First, because when I wrote KILLING MOON, I didn't know I was writing a series. But Berkley asked me for more werewolf books, so I began thinking of more stories. I'd introduced Jack Thornton in KILLING MOON. He's the police detective working with Ross Marshall and also investigating him as a murder suspect. I wanted to tell Jack's story, and give him a HEA since he was a widower raising two children. So I turn the tables in EDGE OF THE MOON, with Ross Marshall helping Jack and Kathryn Reynolds escape from a "demon" who is forcing them to help him fight an evil magician.
(ISBN: 0425190714, Berkley Sensation, June 2003)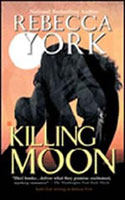 Introduces Ross Marshall, my werewolf detective. He's on the trail of a serial killer, who shoots him at the beginning of the story. Out of his mind with an infected bullet wound, he's treated by a beautiful young doctor, Megan Sheridan. He's drawn to Megan–and she to him–yet he's vowed never to pass on his werewolf genes. As he becomes more intimately involved with Megan, she helps him figure out his genetic heritage. But the killer turns his attention on them. And Ross finds he must reveal his violent nature to Megan if he wants to save her. The setting is always important to my books. KILLING MOON takes place in the DC area because that's where I live, and I also felt that setting a story here adds extra cachet.
FULL MOON (ISBN: 0425207765, Berkley Trade, February 2006) reprints KILLING MOON and EDGE OF THE MOON.
MOON SWEPT (ISBN: 0425211991, Berkley Trade, November 2006) reprints WITCHING MOON and CRIMSON MOON.