TEN BRIDES FOR TEN HOT GUYS
Need a beach read to fill your lazy summer days? Look no further! Available on Amazon, Barnes & Noble, Kobo, and iTunes, Ten Brides for Ten Hot Guys will take you on a thrill ride until the very last page! Ten New York Times and USA Today bestselling authors bring you ten awesome stories featuring super-hot guys determined to find their perfect brides. Fall in love with doctors, lawyers, billionaires and men in uniform. From small-town to international intrigue, from Boston to Scotland to the Greek Isles, these emotional love stories will touch your heart…and make you reach for a fan to cool the sizzle!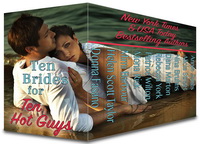 Rebecca York's story in Ten Brides for Ten Hot Guys is Nightfall.  When all-male plague survivors landed on the planet Palomar, no one knew if humans could thrive in the hostile environment. Now it's twenty years later, and the planetary authority has finally authorized a shipment of brides. Homesteader Caleb Raider has won a wife in the lottery, but he hasn't seen a woman since childhood-except in a porn vid. His new wife, Beka Gunnarsen, knows he's a virgin. What's the best way to introduce him to the pleasures of married love, while hiding the secret she thinks will destroy their new relationship? And is she up to living on a nearly lawless planet where savage wildlife roams?
Here's the latest project from Rebecca York's Ruth Glick persona:

THE 2 DAY A WEEK DIET COOKBOOK, a Kindle cookbook, by Nancy Baggett and Ruth Glick.  Go here to buy a paperback version of the cookbook,
75 tempting, easy, low-cal recipes and 50 enticing color photos. 




Welcome to the Rebecca York Web Site
Romantic thrillers are my passion. I love writing stories about a man and a woman falling in love against a backdrop of heart-stopping danger. And if the book has a dark paranormal twist, so much the better. Now that you're here, I hope you'll browse around my site to find out what I'm writing and what I've written in the past. In "THE BOOKS" section, you'll find information on my Moon series, my books about the Marshall family of sexy alpha male werewolves, and also DARK MOON, the latest in the Moon series and also the first book in my Decorah Security paranormal romantic suspense series.  There are now three novels (DARK MOON, DARK POWERS, and AT RISK),  three novellas (CHRISTMAS CAPTIVE, ON EDGE, and CHAINED), and two short stories (HOT AND DANGEROUS and AMBUSHED) in the Decorah Security Agency series.  You can also get—for a bargain rate—the DECORAH SECURITY COLLECTION (now available on iTunes or Amazon), which contains DARK POWERS, CHAINED, and AMBUSHED.  All three novels are now available as both e-books and trade paperbacks.  And if you want a list of my 43 Light Street series books, they're here too. Please bookmark this site, and plan to visit often. We will update the information on a regular basis.
Although the DECORAH SECURITY COLLECTION is the first Decorah Security series book to be available at iTunes, all of the series will be at the iBooks Store soon.
And for my Newsletter subscribers, please enter my Autumn Contest for a chance to win prizes.