TERROR MANSION
LATEST DECORAH SECURITY NOVELLA
Terror Mansion is the 12th book in the Decorah Security Series.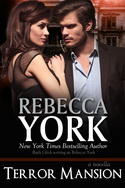 Decorah agent Wyatt Granger hates his dreams because they often warn of danger.  Tonight he wakes from a nightmare about a beautiful young woman, pursued by a confusing cloud of menace.  He doesn't know her name or where she lives, but he lets his psychic talents guide him to her–and finds she's a silversmith working in St. Stevens on the Eastern Shore of Maryland. Her name is Kate Kingston, and when he tells her she's in danger, she brushes off his warning.  Kate thinks he's a con artist. Can Wyatt win her trust before a deranged murderer closes in on both of them?
Just out.  Only 99c.
Rebecca York is a lead author in a new anthology, Summer Heat. 
I'm in a new boxed set with sixteen brand-new short and sexy Contemporary Romance Novels from New York Times, USA Today, and international bestselling authors!  What a deal.  Sixteen stories for 99c. The exciting romance bundle is guaranteed to make your blood run hot. Passion, steamy nights, adventure, and suspense. Cops, bad boys, special ops, firefighters, military men. All your favorite alpha heroes and book boyfriends! Sexy romance, hot romance. The perfect beach read deal for your Kindle! Grab a cool drink (you'll need it!), find a hammock, and curl up for an unforgettable boxed set of romance bestsellers and award-winning authors.  Among the outstanding authors are Caridad Pineiro, Nina Bruhns, Taylor Lee, Dani Haviland, and Jacquie Biggar.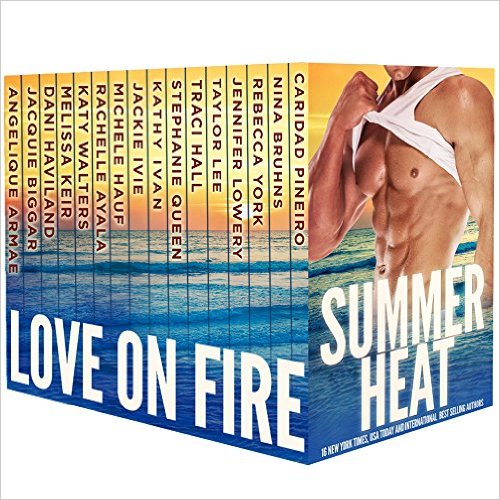 Welcome to the Rebecca York Web Site
Romantic thrillers are my passion. I love writing stories about a man and a woman falling in love against a backdrop of heart-stopping danger. And if the book has a dark paranormal twist, so much the better. Now that you're here, I hope you'll browse around my site to find out what I'm writing and what I've written in the past. In "THE BOOKS" section, you'll find information on my Moon series, my books about the Marshall family of sexy alpha male werewolves, and also DARK MOON, the latest in the Moon series and also the first book in my Decorah Security paranormal romantic suspense series.  There are now three novels (DARK MOON, DARK POWERS, and AT RISK),  three novellas (CHRISTMAS CAPTIVE, ON EDGE, and CHAINED), and two short stories (HOT AND DANGEROUS and AMBUSHED) in the Decorah Security Agency series.  You can also get—for a bargain rate—the DECORAH SECURITY COLLECTION (now available on iTunes or Amazon), which contains DARK POWERS, CHAINED, and AMBUSHED.  All three novels are now available as both e-books and trade paperbacks.  And if you want a list of my 43 Light Street series books, they're here too. Please bookmark this site, and plan to visit often. We will update the information on a regular basis.
Although the DECORAH SECURITY COLLECTION is the first Decorah Security series book to be available at iTunes, all of the series will be at the iBooks Store soon.
And for my Newsletter subscribers, please enter my Autumn Contest for a chance to win prizes.