HUNTING MOON
LATEST DECORAH SECURITY NOVEL
Hunting Moon is the 11th book in the Decorah Security Series.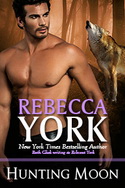 Witnessing the murder of New York mobster, Johnny Denato, is only the beginning of the terror closing in on nightclub dancer Tory Robinson. Kidnapped and spirited off to an isolated upstate New York sanatorium, she's held captive by a sadistic doctor who drugs her and insists she's there for psychiatric treatment. But his focus is on getting information about Denato.
Enter werewolf Brand Marshall, out hunting in the deep woods when he discovers Tory's frightening predicament. Getting her out alive will take all of his courage and cunning, but Brand's ultimate challenge is convincing Tory that she is his destined mate.
Rebecca York is the lead author in a new anthology, Here Be Magic. 


Welcome to the Rebecca York Web Site
Romantic thrillers are my passion. I love writing stories about a man and a woman falling in love against a backdrop of heart-stopping danger. And if the book has a dark paranormal twist, so much the better. Now that you're here, I hope you'll browse around my site to find out what I'm writing and what I've written in the past. In "THE BOOKS" section, you'll find information on my Moon series, my books about the Marshall family of sexy alpha male werewolves, and also DARK MOON, the latest in the Moon series and also the first book in my Decorah Security paranormal romantic suspense series.  There are now three novels (DARK MOON, DARK POWERS, and AT RISK),  three novellas (CHRISTMAS CAPTIVE, ON EDGE, and CHAINED), and two short stories (HOT AND DANGEROUS and AMBUSHED) in the Decorah Security Agency series.  You can also get—for a bargain rate—the DECORAH SECURITY COLLECTION (now available on iTunes or Amazon), which contains DARK POWERS, CHAINED, and AMBUSHED.  All three novels are now available as both e-books and trade paperbacks.  And if you want a list of my 43 Light Street series books, they're here too. Please bookmark this site, and plan to visit often. We will update the information on a regular basis.
Although the DECORAH SECURITY COLLECTION is the first Decorah Security series book to be available at iTunes, all of the series will be at the iBooks Store soon.
And for my Newsletter subscribers, please enter my Spring Contest for a chance to win prizes.