FOUND MISSING & PREYING GAME
LATEST DECORAH SECURITY NOVELS
Found Missing is the 14th book in the Decorah Security Series.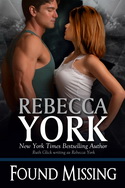 When Jenny Seaver escaped from her worst nightmare, she hoped she had found a refuge with Decorah Security agent Grant Bradley. But deep in her heart, she knew safety was only an illusion. Could she risk the night of passion they both wanted before she disappeared from his life?
Grant's need for Jenny defied any danger. But unless she decided to trust him with the secrets of her past, the evil that followed her could destroy them both.
Preying Game, the 15th book in the Decorah Security Series, was published in February 2017.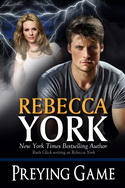 Jonah Ranger was restoring an antique 1955 Chevy when he heard a woman's voice on the car radio pleading for help. She said her name was Alice Davenport, and a man was holding her captive, forcing her into a grueling workout routine so she'd be a proper challenge when he hunted her like big game on his private estate.
As they talked, her voice shifted from the radio to inside Jonah's head. Born with telepathic abilities, he'd helped Decorah Security rescue kidnap victims, but never had he felt this personal connection to one of them. Calling on psychic resources he didn't know he possessed, Jonah was able to project himself to Alice's location, where he could hold her in his arms, touch her, kiss her, and plan.
Rebecca York is a lead author in a new USA Today best-selling anthology, Love, Christmas. 
I'm in a new boxed set with twenty brand-new short and sexy Contemporary Romance Novellas from New York Times, USA Today, and international bestselling authors!  What a deal.  Twenty stories for 99c. The exciting romance bundle is guaranteed to make your blood run hot. Passion, steamy nights, adventure, and suspense. These stories are all named after Christmas songs.  My story is called White Christmas.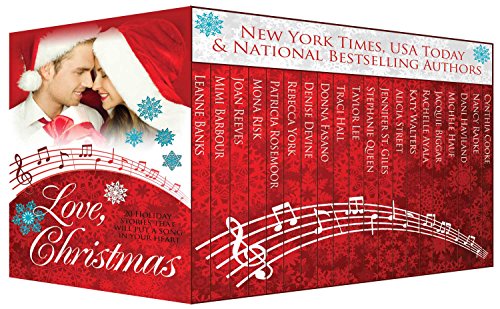 Welcome to the Rebecca York Web Site
Romantic thrillers are my passion. I love writing stories about a man and a woman falling in love against a backdrop of heart-stopping danger. And if the book has a dark paranormal twist, so much the better. Now that you're here, I hope you'll browse around my site to find out what I'm writing and what I've written in the past. In "THE BOOKS" section, you'll find information on my Moon series, my books about the Marshall family of sexy alpha male werewolves, and also Dark Moon, the latest in the Moon series and also the first book in my Decorah Security paranormal romantic suspense series.  There are now six novels (Dark Moon, Dark Powers, At Risk, Rx Missing, Hunting Moon, and Found Missing),  six novellas (On Edge, Chained, Christmas Captive, Destination Wedding, Terror Mansion, and Outlaw Justice), and two short stories (Hot and Dangerous and Ambushed) in the Decorah Security Agency series.  You can also get—for a bargain rate—the Decorah Security Collection (which contains Dark Powers, Chained, and Ambushed).  All six novels are now available as both e-books and trade paperbacks.  And if you want a list of my 43 Light Street series books, they're here too. Please bookmark this site, and plan to visit often. We will update the information on a regular basis.
And for my Newsletter subscribers, please enter my Winter  Contest for a chance to win prizes.