Key Lime Pie Recipe by Ruth Glick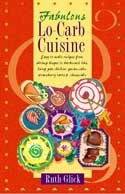 Key Lime Pie is one of my favorite desserts, so making a lo-carb version was one of my goals in writing FABULOUS LO-CARB CUISINE. The results are fantastic, if I do say so myself. Although I don't usually use milk in lo-carb recipes, the evaporated milk contributes significantly to the flavor. You can make this pie without a crust, if you like. I purchase my key lime juice at a gourmet shop in my area. If you can't find the juice near home, it's available on the Web.
Makes 9 servings
1 9-inch Pecan Crust, if desired (See Recipe below)
1 envelope unflavored gelatin
1/2 cup cold water
4 large egg yolks
1/2 cup evaporated milk
1/2 cup Splenda
1/3 cup key lime juice
1/8 tsp salt
1 cup whipping cream
1. In a custard cup, soften gelatin in cold water. Set aside.
2. In a mixer bowl, beat egg yolks until light and lemon colored, about 4 or 5 minutes.
3. In the top of a double boiler, mix milk, Splenda, lime juice, salt, and egg yolks. Cook over boiling water, stirring constantly with a wooden spoon, until mixture thickens, about 5 minutes. Stir in gelatin until dissolved. Refrigerate to cool slightly.
4. In a large mixer bowl, whip cream until stiff. Fold in lime mixture. Spoon into pie shell or pie plate. Refrigerate at least 3 hours. Garnish with twists of lime, if desired.
Carbs: 7.7 g Protein: 4.6 g Calories: 301.6 Fiber: 1.7 g
Pecan Crust
Of course when you're fixing dessert just for the family, you can make any pie without a crust. But when you're serving a company meal, this crust adds a finishing touch. I particularly like to use the recipe with Key Lime Pie. For a thin, even crust, the pecans should be finely ground in the food processor until they begin to stick together.
Makes 1 9- or 10-inch pie crust (9 or 10 servings)
1 1/4 cups finely ground pecans
2 Tbsp Splenda
1/4 cup melted butter
1. Heat oven to 400 degrees.
2. In a small bowl, mix together pecans, Splenda, and butter. Moisten fingers with water, and press mixture firmly against bottom and sides of a 9-inch pie plate. Press a base of crust into the flat portion of the plate. Then work some of the mixture up the sides of the plate. Finally, return to the middle, and smooth out the crust into a thin layer. If crust sticks to fingers, moisten them again. Bake until lightly browned, about 6 to 8 minutes. Cool.
Carbs: 2.6 g Protein: 1.7 g Calories: 154.7 Fiber: 1.7 g
FABULOUS LO-CARB CUISINE (ISBN: 0970629303, Light Street Press, 2001).
A cookbook with over 100 kitchen-tested low-carbohydrate recipes, each with a nutritional analysis. In Fabulous Lo-Carb Cuisine, Ruth Glick presents a culinary wealth of more than a hundred easy to prepare recipes ideal for anyone seeking delicious, nutritious meals that are low in carbohydrates. From Hot Artichoke and Spinach Dip; Broccoli-Cauliflower-Pecan Salad; Asian Steak; and Italian Chicken with Peppers and Onions; to Philly Cheese Steak; Mexican Stuffed Peppers; Almond Coconut Candy; and Hazelnut Truffles, Fabulous Lo-Carb Cuisine offers a diversity of dishes that would grace any meal and satisfy any appetite.
–Midwest Book Review